ThumbView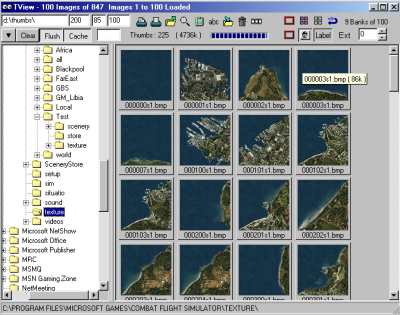 TView - a Program to browse folders on your disks and display any supported Image files as Thumbnails.

Images can be moved between folders, deleted, opened in their default program, renamed, copied to clipboard and viewed full-screen.
Thumbnails can be displayed with or without borders and labels.
Images can be Printed as single Pictures or "Contact Sheets" of all or selected Images.
Images can be saved out in a different format.
Slideshow of displayed folder.
| | |
| --- | --- |
| 4.00.18 (21/11/99) | New Version extends the viewing capacity to over 25000 Images in one folder (in Banks of 256). Now you can view the whole of your CFS/FS Texture Folder |
| 4.00.20 (28/11/99) | Enhanced in conjunction with mwgfx.dll 4.00.97 to read R8 files with any extension and avoid multiple R8 images using the same thumbnail. Bank size now adjustable |
| 4.00.21 (05/01/00) | Bugfixed to remove the "Division by Zero" error on startup if the user had any image files in the Root of C:\ |
Download TViewZip.exe Self-Extracting Archive (277k)
Download the Latest dll Set (required unless you already have it)