Show
4.00.40
A general purpose Image viewing and converting program. It is not a paint program but is ideal for the quick viewing of a wide variety of images and you can call up another program to edit the image with one click - a different program for each format if you want.
Features:

o

Save images out in any supported save format

o

Convert images to 24bit,256 colours, Greyscale, Mono

o

24bit Colour Adjustment

o

Slideshow

o

Register all or single formats with Windows

o

Explorer context menu additions for registered formats

o

WYSIWYG Image Print Dialog with mouse placing/sizing

o

Image Browser

o

View Half-size or Full-Screen (Large images shrunk to fit)

o

Twain support
Requires the full set of DLLS for complete functioning.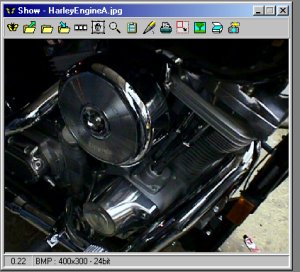 Download Show.Zip (213k)
Download the Latest dll Set (required unless you already have it)