ConvR8
Update Version - 4.00.2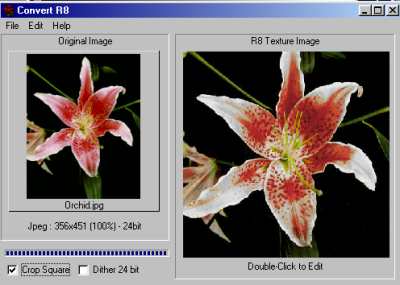 Utility to allow the Converting of any mwgfx.dll supported Image to FS/CFS R8 Texture Format. Also allows editing (in your favourite paint program) of R8 Images.
Load any Image and it will be converted to R8 with optional Pre-Cropping and Dithering. Save Result out as R8 or BMP.
Convert R8 to BMP by Loading a Texture file then saving in Bmp Format.
Added for 4.00.2 - Help menu and "Unsupported Format" Trapping

This Program requires mwgfx.dll to Function. If you already have one of my Programs installed then you will already have it (but Check here for the Latest Version). Extra Formats are available with the Full DLL Set.
Download convr8.zip
Download the Latest dll Set (required unless you already have it)