Hawaiian Carriers for CFS2
One of the major drawbacks of CFS2 is that the major new feature (the Carriers) is only available in a mission context.
This means you are unable to use carriers in FreeFlight or QuickCombat and can only use them in online multiplay by creating a multiplayer mission that includes a Carrier.
The only Landable Carriers available in previous sim versions were the "static" or "scenery" type where a visual model of the carrier would be created and various bits of coding done to create a raised, hardened area corresponding with the visual "Deck". This method can still be made to work in CFS2 and can provide a solution that will work all the time (in FreeFlight, QC, Missions, Multiplay). All that is required for online use is that all participants have the same scenery files installed on their machine (as was always the case with CFS1 with the Ark Royal etc).
The drawbacks of doing them as "scenery" are mainly that they are not destroyable, they don`t move (though I have done moving scenery carriers in the past) and there is no way to use the Aircraft`s Tailhook to help in your landings. That aside they work pretty well.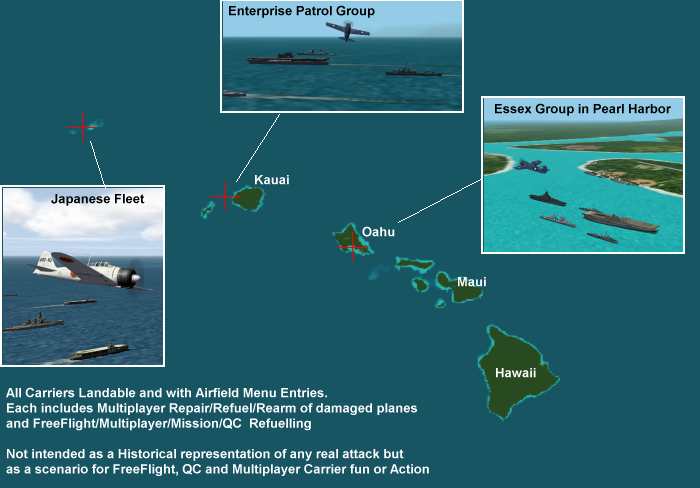 The Hawaii Mesh scenery came with a pair of landable carriers. This package includes those 2 (and their accompanying ships) and adds a large Japanese fleet approaching from the West. The 2 original carriers have undergone major improvements thanks to the selfless "Deck Limit Testing" of Yannis Gakis and his band of mad Carrier lovers. These include the cropping of the landable area as close as possible to the visible deck. As part of the redesign they have also gained the ability to Repair/Refuel/Rearm any damaged plane that manages to land on them. Also added is a scenery-style Fuel box covering the whole deck so that even in FreeFlight you can get fuel just by coming to a complete stop on the deck (note that with a few addon aircraft we have found that it can sometimes be necessary to switch the engine off as well. Most will not require this) and in Multiplayer you can Refuel without having to get your Plane damaged first....
In addition to the American Carrier Groups there has been added a substantial fleet of Japanes Warships that includes 2 landable carriers. These carriers carry all the updates of the American ones. Being smaller they are even more of a challenge to land on.
This scenery has been (and is still being) tested by Yannis and the RAF_ crew. Yannis has provided a few screenshots mostly done during Multiplay showing the sort of things they get up to (all mad....) such as all trying to land and park on the same deck without crashing into someone who landed before you.........or trying to land on the Junyo (only 75% the length of the American carriers) using parking brakes to stand in for the tailhook
One thing to note is that the Carriers (the inland Essex especially) are affected by the DEM Density setting in CFS2. It is recommended that you have this set to Maximum to avoid the Carrier and the Landable surface getting out of alignment with each other.
The download is complete. It can be added to MWHawaii if you have that installed or it can be installed on its own if you don`t. No self-installer because of the variable install possibilities but full instructions enclosed.
As I always prefer to include a Self-Install when ever possible I have added a second version of the package that has a self-installer. Hopefully this will detect if you have the original Hawaii scenery installed and offer to "Install over existing scenery" if it exists.....
If the original Hawaii scenery isn`t found then a new install will be done and everything should be set up correctly to run without problem..